Accounting Manager
The Ben, Autograph Collection
West Palm Beach, FL
Accounting Manager
posted March 22, 2023
Description
We are hiring an Accounting Manager
We are looking for associates and Leaders that have a passion to serve others!
An Accounting Manager is responsible for responding to guest inquiries, resolving guest billing disputes, performing month-end duties and preparing daily receivables in the hotel's continuing effort to deliver outstanding guest service and financial profitability.
Summary:
Administers, directs, and controls the operations of the Accounting/Night Audit Department. Also assists the General Manager through a dotted line reporting function in running the hotel by providing information, assuring ownership of proper control and prudent management through direct reporting responsibility

Responsibilities:

Protects the assets of the hotel.
Provides the General Manager with timely and accurate data on which to make management decisions. Provides accurate and meaningful financial statements to owners and management.
Ensures proper controls are in place and monitors such controls.
Ensures the various areas under the responsibility of the Controller are operating effectively and efficiently.
Ensures the controls are minimizing losses and maximizing profits by retaining revenues, reducing expenses, and safeguarding hotel assets.
Coordinates budget preparation and the full involvement of Department Heads is obtained. Prints daily statements, copies all related back up and mails with statements as necessary. Posts Ledger payments daily.
Processes returned checks through Ledger and completes check requisition to reimburse bank. Sends all returned checks that do not have valid credit card approval to collections immediately.
Clears Exec Off account daily. Verifies division numbers on all departments. Prints weekly reports.
Signs for, sets up account for, and logs advance deposits. Answers any guest questions/research.
Posts all charges, rebates, etc.
Administers 10-30 day calls on outstanding accounts.
Manages direct bill and maintains records for UPS, FED-EX, AirBorne, etc. Handles credit card inquiries and charge backs. Reconcile credit card accounts. Prepares and runs write-off meetings at end of month.
Provides weekly status reports to sales and catering. Processes vouchers.
Formulates and executes a strategy to keep the Days Sales Credit Outstanding under 32 days.
Responsible for general office duties.
Records all cashier overages and shortages. Publishes cashier over/short daily to department heads and appropriate Leadership Team Members.
Submits payroll every other week on the Monday before Pay Days.
Keeps "open communication" between subordinates, peers, and associates.
If available, trains all associates in the Accounting department how to perform their job duties to the best of their abilities while in accordance with established objectives, policies, and procedures.
Provides disciplinary action when, and if, necessary.
Participates in weekly Leadership Team meetings, property MOD program, weekly staff meetings, monthly department and safety meetings
Administers and maintains accurate records of necessary federal, state, and local reports as required by the applicable laws, franchise SOPs, and Concord/local SOPs.
Deviations of hotel policies, procedures, legal requirements, and contractual obligations, which come to attention, are reported to the General Manager.
Responsible for generating annual department budget and monitors period profit and loss statement. Interviews and hires new personnel as needed.
Evaluates staff performance on a forty-five day, ninety-day, 6 month, and annual basis.
Conducts self to reflect the high standards of professionalism within the Concord Hospitality organization. Learns, understands, and refers to the Standard Operating Procedures.
Knows department fire prevention and emergency procedures. Follows safety and security procedures and rules.
Assists other Leadership Team members and/or managers when needed.
Benefits:
401(k)
401(k) matching
Dental insurance
Employee assistance program
Flexible schedule
Flexible spending account
Health insurance
Life insurance
Paid time off
Parental leave
Professional development assistance
Tuition reimbursement
Vision insurance
Why Concord?
Concord Hospitality invests in its associates by providing training and development at all levels, from interns to executive leaders. Our "Associate First" culture supports and inspires personal development both within the workplace and beyond. Our associates are what our company is built on, and we are proud to recognize them for their hard work, dedication, and commitment to excellence. We value work life balance, diversity, and our commitment to provide the best customer service and quality accommodations in every market we exist. Concord is built on 5 cornerstones: Quality, Integrity, Community, Profitability and FUN! Our associates say it best with our national company cheer heard throughout North America ---
"We Are Concord! "We support diversity and inclusion through our mission to be a "Great Place to Work for All."
---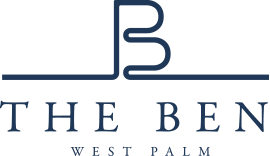 251 North Narcissus Avenue
West Palm Beach, FL 33401
Our Hotel
Offering prime views of the Palm Harbor Marina and Intracoastal Waterway, The Ben, Autograph Collection hotel channels the spirit of one of West Palm Beach's great homes and interprets it for a modern traveler. Amenities include a stunning rooftop lounge with an expansive swimming pool and bar. Walk to all of the vibrant entertainment just one block from famous Clematis Street, minutes to West Palm's "Main Street," and lifestyle hub Rosemary Square. This luxury boutique hotel ideally located in West Palm Beach is just 1.5 miles to Palm Beach Atlantic University. The Ben is a forum for shared experiences and social interactions that enliven and invigorate, spurring patrons to flourish and grow. Guest rooms and suites offer thoughtful amenities for a relaxing stay like mini-bar, 55" Smart HDTV and complimentary WiFi. Grab a book to read from our carefully curated library, stay fit in our extensive fitness center or enjoy the beautiful rooftop pool. Host your event in over 7,800 sq ft of event space.