Houseperson
The Alloy- a Doubletree Hotel
King of Prussia, PA
Houseperson
Posted September 22, 2022
 The Alloy a Double Tree by Hilton is hiring a Houseperson to assist in our Housekeeping Department
As the Houseperson, you will:
• Make rounds through the halls each shift to ensure public areas are clean and tidy, taking care to remove or replace anything out of order.
• Coordinate and help housekeeping with heavy lifting and priority requests.• Use your watchfulness to report missing or found articles and any sign of damage or needed repair.• Be graciously attentive to guests, answering questions and getting additional help when it's needed.
Here are some reasons our associates like working for us:
Benefits (Full Time Associates only)
We offer competitive wages.  Full-time associates are eligible to participate in a comprehensive benefit package, which includes medical/dental/vision plans, life insurance, ST/LT disability options, 401K options, tuition assistance, discounted room rates at Concord managed hotels, plus training & development and career advancement opportunities. 
Why Concord?
Our culture is based on our five Cornerstones and they are what we consider to be our foundation: Quality, Integrity, Profitability, Community and Fun. We are associate-focused, meaning that as we make decisions, we think about how these decisions will impact our associates.  We realize the importance of work-life balance, we understand that transparency is key, giving back in the communities in which we live, means a great deal to us, and lastly…let's make sure we have FUN!  We encourage diversity and belonging and appreciate that we all are different and our differences are what make us great!  Concord Hospitality has also earned the recognition of being a GREAT PLACE TO WORK for Millennials and Great Places to Work for Women!
---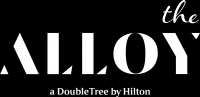 301 West DeKalb Pike
King of Prussia, PA 19406
Modern Comfort Meets Historic Luxury
Join us at the Alloy, where lavish amenities and utmost comfort is never far out of reach. Experience a fusion of modern and historic touches in every stylish detail. Our guest rooms are complete with luxurious linens and elegant touches that are guaranteed to make you feel right at home and recharged in no time.