Line Cook
The Alloy- a Doubletree Hotel
King of Prussia, PA
Line Cook
Part-time
Posted January 14, 2022
The Alloy, a DoubleTree by Hilton hotel in King of Prussia is seeking an experienced Cook to join our growing culinary team. Come join us to work in King of Prussia's premier restaurant, Hammer & Fire!
The position starting rate is $18.00.  We are also offering a $750 hiring incentive to be pay after successful completion of 90 days.  This position is full-time and eligible for excellent medical benefits, free company paid life insurance, company paid short term disability, free monthly Septa transpass, 401k, discounted hotel rooms, tuition reimbursement, and so much more!
This is a great opportunity to bring your culinary skills to one of North America's fastest growing hospitality companies – Concord Hospitality Enterprises. This position of Cook means you'll be tempting the palettes of our guests with your attention to detail in presentation, quality, and safe serving temperatures. Depending on the brand of hotel, we offer various types of food service from simple buffet breakfasts to plated dinners and banquet events! Our cooks are team players that work with our operations team to provide the best professional, competent and prompt service to our guests and our client partners.
As a cook for Concord we'll have some key responsibilities that we'll seek:
Prepare food of consistent quality following brand recipe cards
Proper Documentation on all food containers with adherence to rotations per SOP
Practice safety standards at all times
Report to work in full clean uniform on time and ready to serve
Cook orders with adherence to guest requests/special needs in a positive manner
Be proactive with ordering and pars, food preparations and equipment upkeep to eliminate service obstacles
Why Concord?
At Concord Hospitality, our Cooks earn competitive wages with annual increases, receive our extensive benefit package including dental/vision plans, life insurance, ST/LT disability options as well as opportunities to participate in our 401K options with "company matching funds", tuition assistance plus training & development and career advancement opportunities. Concord Hospitality offers an attractive internal complimentary room program to our associates as well as offering brand discounts. Our "medical concierge" service is an option to save our associates during times of advanced medical attention up to an including complimentary surgeries and other medical attention.
We believe in career growth at Concord! Many of our Cooks have advanced to become Sous Chefs, Directors of Catering or Directors of F&B. With our growing portfolio across North America, we offer great growth opportunities for candidates to build their career and reach long term career goals.
Concord's foundation is our 5 Key Cornerstones: Quality, Integrity, Community, Profitability, and our newest – having Fun. We strive to hire the BEST associates in the market and thus provide a great working environment that associates find appealing. Enjoy a culture where you are valued and our Associate First policy is a way of life. Utilize your hospitality talents with a Company that cares about you and your development.
---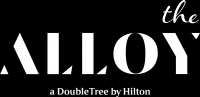 301 West DeKalb Pike
King of Prussia, PA 19406
Modern Comfort Meets Historic Luxury
Join us at the Alloy, where lavish amenities and utmost comfort is never far out of reach. Experience a fusion of modern and historic touches in every stylish detail. Our guest rooms are complete with luxurious linens and elegant touches that are guaranteed to make you feel right at home and recharged in no time.